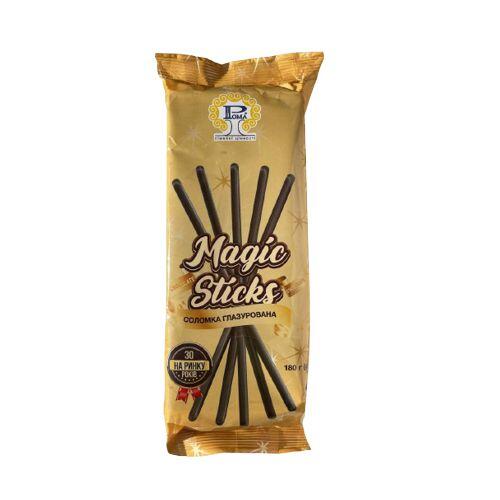 Bread rings «Magic Sticks»
Ingredients: first-grade wheat flour, confectionery glaze (sugar, cocoa butter substitute (fully hydrogenated vegetable fat (palm oil)), cocoa powder, emulsifiers (soy lecithin, polyglycerin), vanilla flavoring), drinking water, sugar, vegetable fat Confectionery shortening" (refined deodorized palm oil, emulsifier of mono- and diglycerides of fatty acids, antioxidant tocopherol), baking powder sodium bicarbonate, table salt, pressed baker's yeast.
Nutritional value per 100 g of product: fats - 18.3 g (g), of which saturated - 15.03 g (g); carbohydrates - 70.6 g (g), of which sugar - 31.45 g (g); proteins - 7.4 g (g), salt - 0.49 g (g).
Energy value (caloric content): 2003 kJ/478 kсal.
Expiration date: 6 months (packaged).
Net weight: 0,180 kg.