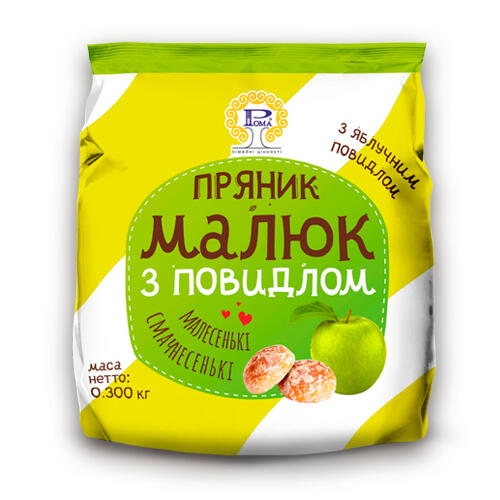 "Malyuk" gingerbread with jam 0.3
Ingredients: first-grade wheat flour, sugar, apple jam filling with cherry aroma 16.2% (apple puree, white sugar, starch molasses, citric acid, sodium benzoate, "Cherry" flavoring agent, carmoisine and ponzo 4R coloring agents), drinking water, margarine (vegetable oils and fats, refined, bleached, deodorized and palm oil and its fractions, sunflower oil in partially hydrogenated and natural form in variable proportions, prepared water, table salt, emulsifiers Twin-80, mono- and diglycerides of fatty acids, sunflower lecithin, potassium sorbate preserving agent, citric acid acidity regulator, "Butter" flavoring agent, beta-carotene coloring agent), chicken eggs, baking agents: carbon ammonium salt and sodium hydrogen carbonate, "Vanillin" flavoring agent, baking improver (wheat flour, sorbic acid preserving agent).
Nutritional value per 100 g of product: fat - 2.1 g, of which saturated - 0.5 g; carbohydrates - 79.2 g, of which sugars - 55.8 g; protein - 3.5 g, salt - 0.3 g.
Energy value (caloric content): 1470 kJ/350 kсal.
Expiration date: 2 months (packed).
Net weight: 0.3 kg.