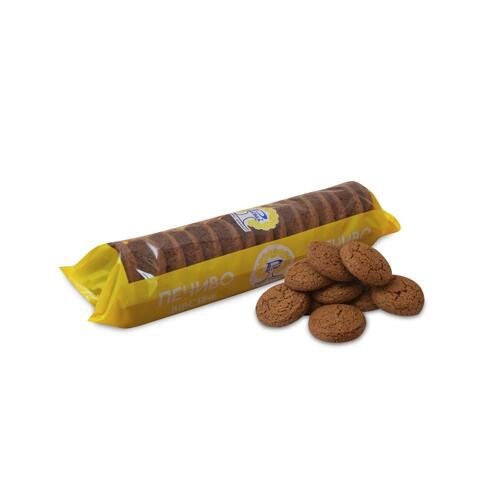 Oatmeal cookies
Ingredients: wheat flour of the first grade, sugar, margarine (refined deodorized vegetable oils and fats (including modified), drinking water, table salt, emulsifiers E471 and E433, soy lecithin (E322), preservative potassium sorbate, flavor "Oil", regulator citric acid, food coloring E160a), oat flour (15%), drinking water, invert syrup (sugar, drinking water, acidity regulators sodium bicarbonate and citric acid), cherry-flavored apple jam (apple puree, sugar, starch molasses, acidity regulator citric acid, sodium benzoate E211, artificial "Cherry-95" flavoring, artificial E122 and E124 dyes), barley malt extract, baking powder sodium bicarbonate, table salt, cinnamon, artificial "Vanilla" flavoring.
ПиNutritional value per 100 g of product: proteins - 5.6 g, fats - 14.5 g, carbohydrates - 72.5 g.
Energy value (caloric content): 437 kCal / 1829 kJ.
Expiration date: 2 months (in packaging).
Weight: 0,300 kg.