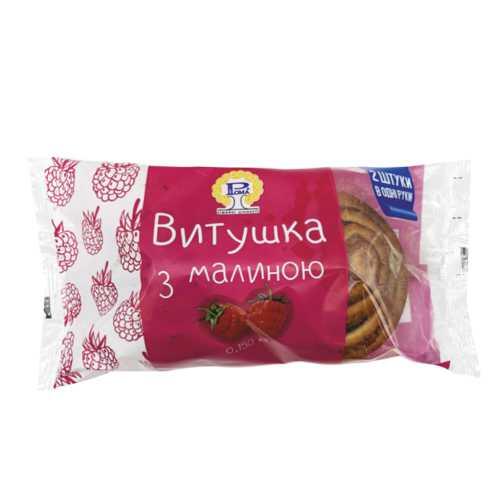 "Likhachovska" twisted bun with raspberries
Ingredients: premium wheat flour, raspberry filler 24.4% (quick-frozen raspberries (12.8%), sugar, thickener (modified corn starch, microcrystalline cellulose, sodium alginate, xanthan gum), potassium sorbate preserving agent, citric acid acidity regulator), drinking water, sugar, sunflower oil, pressed baking yeast, egg powder, table salt, chicken eggs.
Nutritional value per 100 g of product: fat — 3.2 g, of which saturated - 0.5 g; carbohydrates — 55.4 g, of which sugars — 22.7g; protein – 5.7 g, salt — 0.4 g.
Energy value (caloric content): 1146 kJ/273 kсal.
Expiration date: 7 days (packed).
Weight: 0,150 kg.