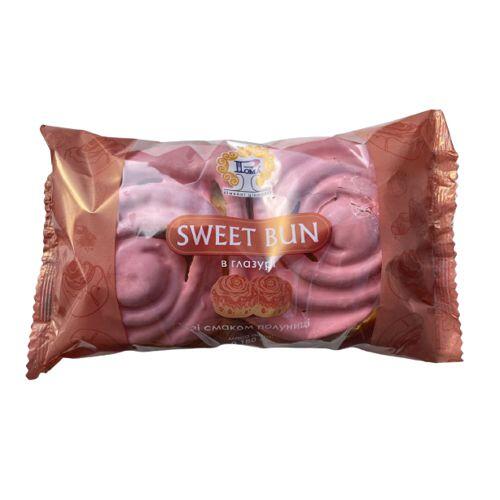 «SWEET BUN» bun with strawberry flavor
Ingredients: high-grade wheat flour, raspberry-flavored cream custard filler 27.7% (water, sugar, skimmed milk powder, thickener, butter-spread, egg powder, flavorings ("Raspberry", "Vaniline"), preservative potassium sorbate), water beverage, sugar, confectionery glaze with strawberry flavor 7.2% (sugar, confectionery fat (equivalent to cocoa butter), dry skim milk whey, dry milk, emulsifier soy lecithin, acidity regulator lactic acid, flavoring "Yogurt - strawberry", dye Ponceau 4R, "Vaniline" flavoring), sunflower oil, pressed baker's yeast, melange, table salt.
Nutritional value per 100 g of product: fats - 4.1 g (g), of which saturated - 1.2 g (g); carbohydrates - 52.4 g (g), of which sugars - 19.2 g (g); proteins - 6.4 g (g), salt - 1.2 g (g).
Energy value (caloric content): 269 kсal/1132 kJ.
Expiration date: up to and including the date indicated on the package.
Weight: 0,180 kg.