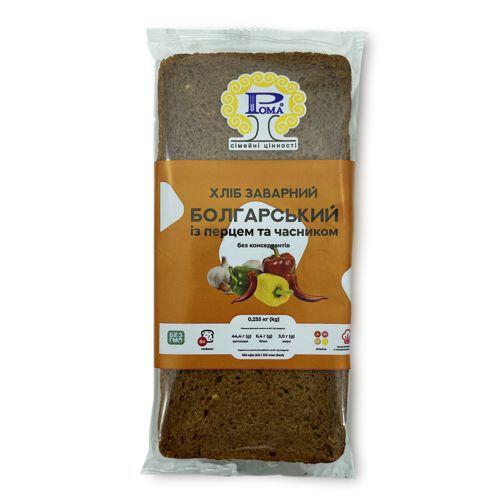 "Bolharskyi" toast bread
Ingredients: high-grade wheat flour and dehulled rye, drinking water, fermented rye malt, dried vegetable mixture (paprika (1.1%), garlic (0.8%), chili pepper (0.08%)), sunflower oil, invert syrup (sugar, drinking water, acidity regulators sodium bicarbonate and citric acid), table salt, unfermented rye malt, pressed baker's yeast.
Nutritional value per 100 g of product: fats — 3.0 g (g), of which saturated — 0.3 g (g); carbohydrates — 44.4 g (g), of which sugars — 2.0 g (g); proteins - 6.4 g (g), salt - 1.2 g (g).
Energy value (caloric content): 963 kJ/230 kсal.
Expiration date: up to and including the date indicated on the package.
Weight: 0,255 kg.