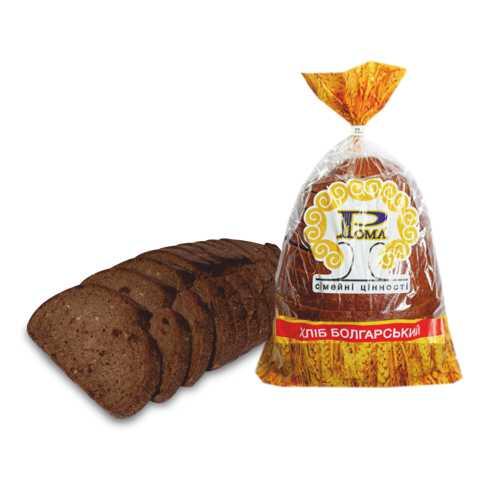 "Bolharskyi" bread
Ingredients: first-grade wheat flour and rye flour, drinking water, fermented rye malt, dried vegetable mixture (paprika, garlic, chili pepper), sunflower oil, invert syrup (sugar, drinking water, sodium bicarbonate and citric acid acidity regulators), table salt, unfermented rye malt, pressed baking yeast.
Nutritional value per 100 g of product: fat – 3.0 g, of which saturated - 0.3 g; carbohydrates - 44.4 g, of which sugars - 2.0 g; protein - 6.4 g, salt - 1.2 g.
Energy value (caloric content): 963 kJ /230 kсal.
Expiration date: 7 days (packed).
Weight: 0.300 kg (half sliced).