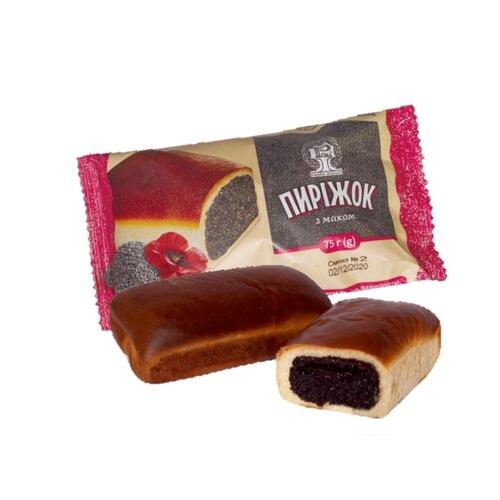 Pasty with poppy seeds
Ingredients: poppy filling (sugar, drinking water, poppy oil (30%), breadcrumbs, "Vanilin" flavoring agent), high-grade wheat flour, drinking water, skimmed milk powder, sugar, margarine (refined deodorized vegetable oils and fats (including modified), drinking water, table salt, emulsifiers E471 and E433, soy lecithin E322, potassium sorbate preserving agent, "Butter" flavoring agent, citric acid acidity regulator, food coloring agent E160a), chicken eggs, pressed baking yeast, emulsifiers (food glycerine, mono- and diglycerides of fatty acids), food alcohol, table salt, calcium propionate preserving agent, "Vanillin" flavoring agent.
Nutritional value per 100 g of product: fat - 11.7 g, of which saturated - 1.7 g; carbohydrates - 51.7 g, of which sugars - 34.5 g; protein - 8.8 g, salt - 0.9 g.
Energy value (caloric content): 1457 kJ/348 kсal.
Expiration date: 7 days (packed).
Weight: 0,075 kg.