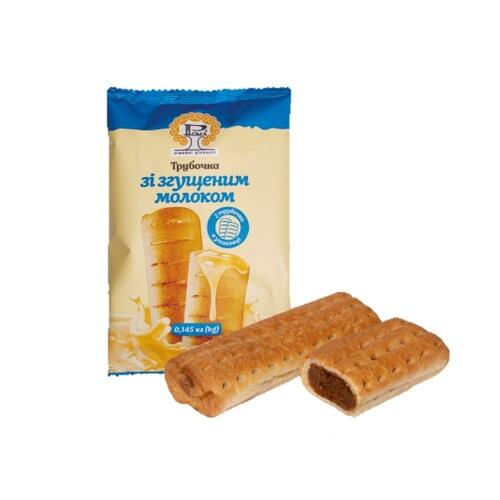 Puff pastry with condensed milk
Ingredients: premium wheat flour, condensed sterilized boiled whole milk with sugar (28.6%), whole cow's milk, dry whole milk, white sugar, milk sugar, drinking water), drinking water, margarine (refined deodorized vegetable oils and fats (including modified), drinking water, table salt, emulsifiers E471 and E433, soy lecithin (E322), potassium sorbate preserving agent, "Butter" flavoring agent, citric acid acidity regulator, food coloring agent E160a), pressed baking yeast, sugar, table salt.
Nutritional value per 100 g of product:protein - 8.5 g, fat - 15.4 g, carbohydrates - 55.7 g.
Energy value (caloric content): 375 kCal/1570 kJ.
Expiration date: 7 days (packed).
Weight: 0,140 kg.