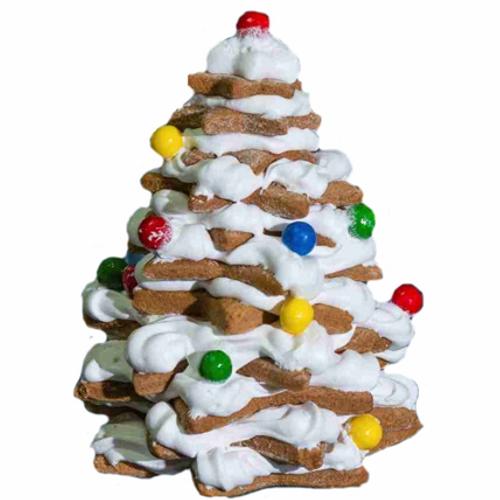 "Rizdvyana yalynka" gingerbread
Made during the Christmas holidays
Ingredients: first-grade wheat flour, sugar, drinking water, rye flour, invert syrup, margarine, chicken eggs, barley malt extract, baking powders: sodium hydrogen carbonate and ammonium hydrogen carbonate, gelling agent food gelatin, a mixture of spices in variable proportions (cinnamon, cloves, ginger, cardamom, ground allspice, ground black pepper, nutmeg, star anise), artificial coloring agents E102, E124, E132, citric acid acidity regulator.
Nutritional value per 100 g of product: protein - 6.0 g, fat - 6.7 g, carbohydrates - 73.0 g.
Energy value (caloric content): 357 kCal/1495 kJ.
Expiration date: 2 months (packed).
Net weight: 0.200 kg, 3.000 kg (15 pcs).