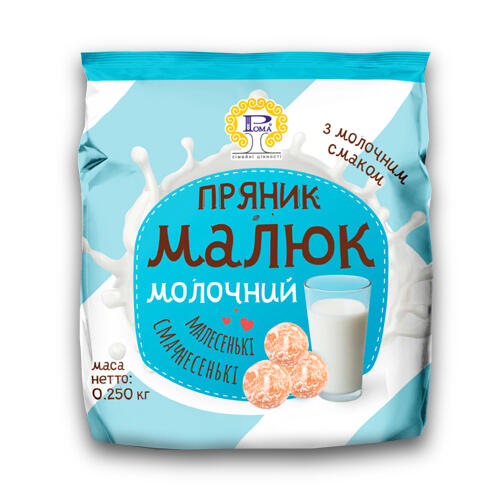 "Malyuk" milky gingerbread 0.25
Ingredients: first-grade wheat flour, sugar, drinking water, rye flour, invert syrup (sugar, drinking water, acidity regulators, sodium bicarbonate E500 acid citric acid), margarine (vegetable hydrogenated refined deodorized fat, palm oil and sunflower refined deodorized oil, drinking water, kitchen salt, emulsifiers E 471, E475, soya lecithin, natural beta-carotene, preservative sorbic acid, acidity regulator of milk acid, antioxidant E321), skimmilk powder (2.6%), baking powder, ammonium bicarbonate and sodium bicarbonate, flavoring agents "Baked milk" and "Vanillin".
Nutritional value per 100 g of the product: fats — 5.6 g, of which saturated 1.8 g; carbohydrates — 49.0 g, of which sugar — 37.1 g; proteins – 6.3 g, salt — 0.01 g.
Energy value (caloric content): 1487 kJ/354 kсal.
Expiration date: 2 months (packed).
Net weight: 0.250 kg.