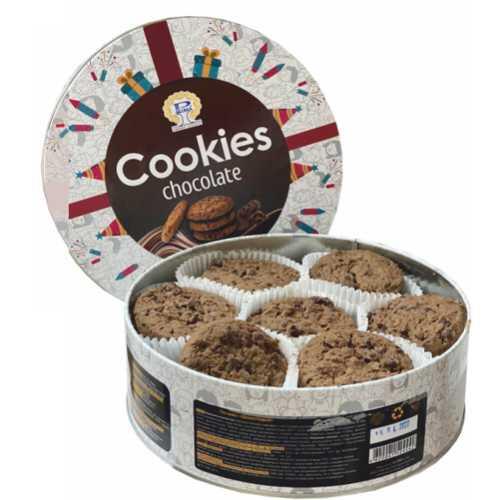 Chocolate cookies
Ingredients: first-grade wheat flour, margarine (refined deodorized vegetable oils and fats (including modified), drinking water, table salt, emulsifiers (mono- and diglycerides of fatty acids, esters of polyglycerides and fatty acids, soy lecithin), potassium sorbate preserving agent, "Butter" flavoring agent, citric acid acidity regulator, β-carotene coloring agent), chocolate drops 30% (grated cocoa, sugar, dextrose, cocoa butter, emulsifier soy lecithin), sugar, corn starch, cocoa powder (2.5%), humectant propylene glycol, baking powders: (sodium hydrogen carbonate, sodium pyrophosphate, ammonium hydrogen carbonate), flavoring agents ("Chocolate" , "Cream butter"), table salt.
Nutritional value per 100 g of product: fat - 32.6 g, of which saturated - 5.4 g; carbohydrates - 61.1 g, of which sugars - 44.7 g; protein - 5.3 g, salt - 1.0 g.
Energy value (caloric content: 2315 kJ/553 kсal.
Expiration date: 6 months (packed).
Net weight: 0.340 kg.