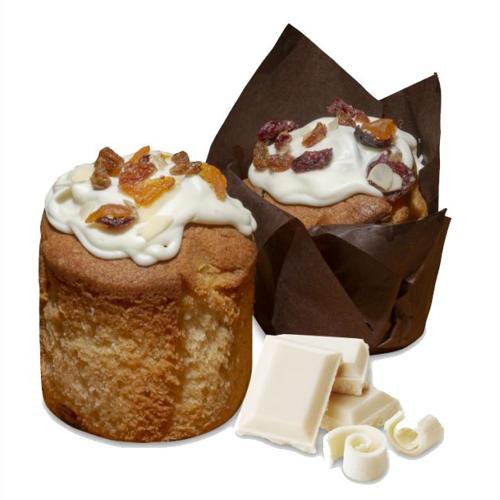 Festive muffin
Ingredients: premium wheat flour, margarine (vegetable fats, hydrogenated, refined, deodorized, refined deodorized sunflower oil, prepared drinking water, emulsifiers (distilled monoglyceride, soy lecithin) white sugar, skimmed milk powder, table salt, sorbic acid preserving agent, acidity regulator "food grade citric acid monohydrate", "Cream Butter" flavoring agent, natural "b-carotene" coloring agent), sugar, chicken eggs, drinking water, confectionery white glaze (sugar, cocoa butter substitutes (fully hydrogenated vegetable oil (palm oil), vegetable fat (palm oil), skimmed milk powder, dry whey, emulsifiers (soy lecithin, e476), flavoring agents ("White chocolate", "Vanillin")), "Muffin" mixture, dried grapes, charred cranberries, dried apricots, almonds, potassium sorbate preserving agent.
Nutritional value per 100 g of product: protein - 5.6 g; fat - 14.5 g, of which saturated - 7.2 g; carbohydrates - 72.5 g, of which sugar - 8 g, salt - 0.22 g.
Energy value (caloric content): 437 kCal/1830 kJ.
Expiration date: 60 days (packed).
Net weight: 0.107 kg, 0.430 kg (4 pcs).